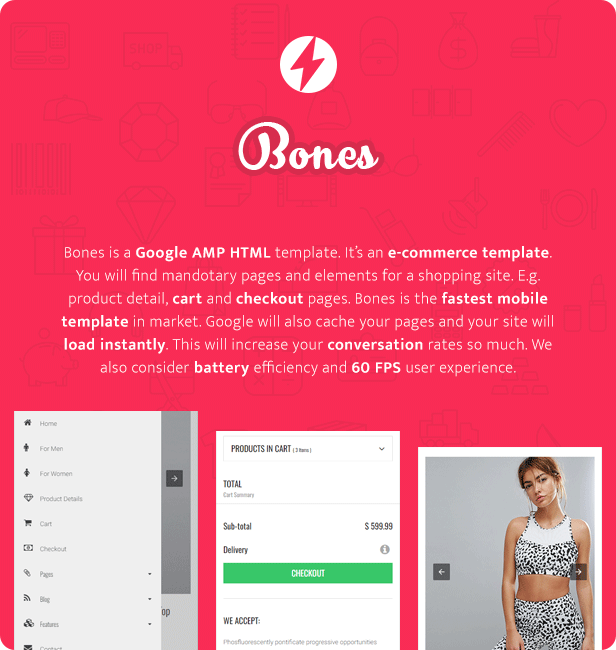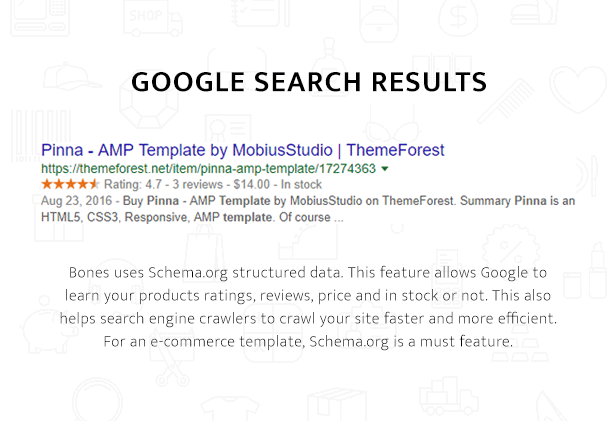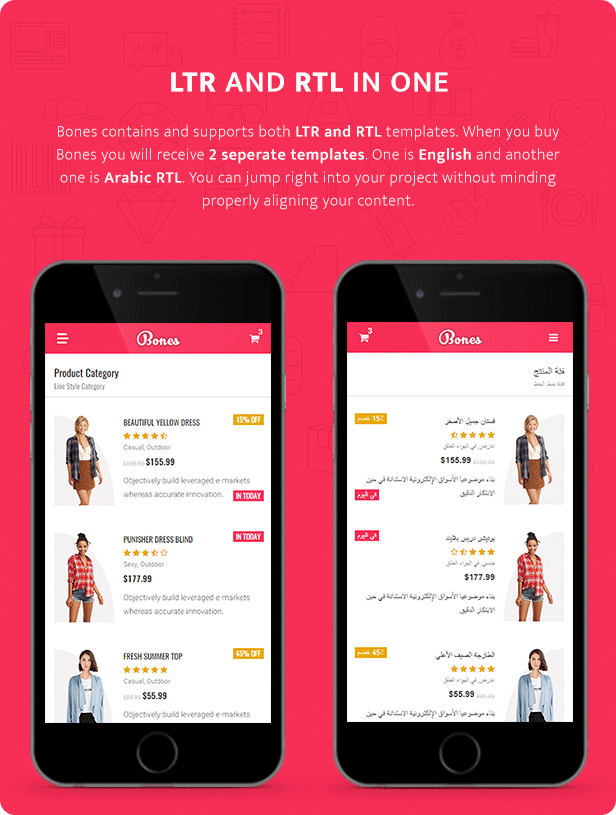 Bones is a Google AMP HTML template. It's an e-commerce template. You will find mandotary pages and elements for a shopping site. E.g. product detail, cart and checkout pages. Bones is the fastest mobile template in market. Google will also cache your pages and your site will load instantly. This will increase your conversation rates so much. We also consider battery efficiency and 60 FPS user experience.
Bones uses Schema.org structured data. This feature allows Google to learn your products ratings, reviews, price and in stock or not. This also helps search engine crawlers to crawl your site faster and more efficient. For an e-commerce template, Schema.org is a must feature.
Bones contains and supports both LTR and RTL templates. When you buy Bones you will receive 2 seperate templates. One is English and another one is Arabic RTL. You can jump right into your project without minding properly aligning your content.
Template has built under Google's Accelerated Mobile Pages rules.Every page is totally valid. Everything AMP brings on the table are present in this template.
Todays web development requires a lot of work. With Gulp task runner you can make your work easy. Save more time and release more work then profit.
Working with HTML templates can get frustrating because of same code is present on every page. With some simple logic, use includes, variables and more on HTML.
Template comes with LTR and RTL seperate templates in one pack. Optimized LTR and RTL css code to make template look good on both languages. English and Arabic used.
With structured data, boost your SEO one more step ahead. In this template, you will find detailed code for blog pages and generic code for general pages.
This template can work completely offline/without internet connection on your visitors second visit. When you open teem, background workers will start to store every page on cache.
Detailed documentation covers all the complex topics about the template. We tried to explain everything from the start.It is available online and you can check it before buying.
With working contact form you can start using it in no time. It works with SMTP so It is fast and reliable. You can set the sender and receiver.
Templates custom sidebar design is clean and user friendly. Perfect for small screen devices. Contains an accordion menu for navigation and contact information.
Blog listing, blog detail includes simple, carousel, video and twitter posts with generic sidebar. It also comes with a comment form template.
Template uses the most popular font icons. It currently has 634 icons. There is almost nothing this family could afford. It's easy to use and can be styled with CSS.
This template contains custom style accordions and carousels. Only AMP script codes and layouts used for these and stylnig has done seperately special.
If you are going to put Advertisement on your site AMP handles them the smart way. Check the usage examples on the demo page. There is support for every known ad provider.
AMP provides custom tags for many HTML tags. For audio and video tags for example you can put placeholder or fallback information in case video fails to open.
Responsive grid code has taken from Bootstrap 3 and strip unnecessary code to lower size. Example page contains all columns with presentation layout.
As a full-time Templateforest author support and updates are waiting for you. When there is an update to any code, template will get updates or to you by support.
Icons Used
Font Used
Photos Used
All photos are replaced with placeholders and not included in the downloaded package.
* AMP Templates are not WordPress Themes and WordPress related refund requests will be declined.